Virtual Terminals for Credit Card Processing – What Are They?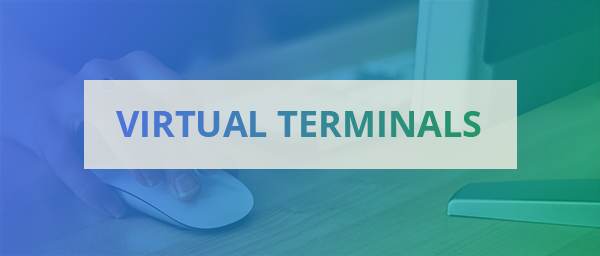 If you run a brick-and-mortar business, having a retail terminal on site is an indispensable asset. But what if you take phone orders, run an online business, or don't have in-person shopping? How can you accept credit cards without a physical credit card reader?
The answer may be with an overlooked function of your payment gateway ( CyberSource payment gateway, USAepay, authorize.net, and eMerchantGateway) , – the Virtual Terminal or vTerminal. Essentially, the Virtual Terminal allows a business to process credit cards without having the card in hand.
Think of it as a terminal on your computer, tablet, or phone, where all you need to do is punch in your customer's information, and securely process your customer's credit or debit card orders.
In this article, we'll explain everything you need to know about virtual terminal options, how they work, and which one is right for your business. If you have additional questions, contact us here.
What is a virtual terminal?
A virtual terminal, sometimes referred to as a merchant console or vTerminal, enables you to accept payments from customers the same way a customer pays you in person with a physical terminal, but instead of swiping the card, the merchant keys in the credit card information to an online portal to get credit card approval.
The virtual terminal links the customer's credit card information to your business's merchant account. This allows the customer to pay you through the virtual terminal, similar to how a retail customer pays you in person with a credit card terminal, just without them having to be present. Thus giving you extra flexibility and efficiency for processing transactions.
A virtual terminal also can reduce the risk of fraud, minimize delays, and allow you to process more transactions per day by not having to be location-dependent. In addition to accepting payments, virtual terminals can be used for order management, inventory management, reporting and analytics, and more.
All you need is a web browser and an internet connection and you can manage the virtual terminal(s) remotely, usually from a laptop or desktop computer at your office or another secure location. And, since all data communications are encrypted with SSL, you can have peace of mind that your orders are secure.

When to use a Virtual Terminal?
Virtual terminals are best suited for businesses that accept card-not-present (CNP) transactions. That's because they don't require you to have a physical terminal on-site at all times. Instead, you manage them remotely with a browser online.

Virtual terminals are perfect for:
Curbside delivery or at home with phone orders
A service or small business that would like to take credit card orders over the phone rather than waiting for a check
For businesses that take orders for products at tradeshows or pop-up events
Subscription payments for customers who purchase products frequently
High ticket services where a sale happens via phone
How a Virtual Terminal Works
The Virtual Terminal acts as a bridge between the merchant and the customer. It allows customers to pay using credit cards from multiple card types, including Visa, MasterCard, American Express, Discover, and JCB, as well as debit cards.
Once you key in a customer's billing information with your computer, tablet, or phone, the virtual terminal will process the payment. The customer's card details are then sent to the merchant's bank account. Once approved, the funds will be transferred to the business's merchant account.
Conclusion
If you run a business where your customers are not present, having a virtual terminal allows you to accept credit card payments with the extra benefit of lower credit card processing fees. Some key points: sometimes a virtual terminal is referred to as a Merchant Console or vTerminal. They can be used without the need of a retail terminal and are perfect for over-the-phone orders or orders while on the road.
Not only do virtual terminals take orders, but they also let you do order management, inventory management, reporting, and see analytics.