Convenient payment processing with the highest level of fraud protection.
Built on one of the largest payment gateway platforms in the world, eMerchantGateway is a trusted solution for accepting payments online, over the phone or by mail.
Secure, fast and reliable, eMerchantGateway offers a variety of payment gateway features for processing and managing card-not-present payments and echecks.
Full PCI-DSS compliance payment security
A convenient management console accessed through a web browser or an app
A virtual terminal function for orders by phone or mail
The ability to create invoices or web forms for online payment
Recurring billing options customizable by customer
18 fraud modules with a variety of settings to suit your exact business needs
Detailed reporting to manage transactions by the minute
Batch and real-time payment processing options
The ability for mobile connections
Learn more about payment gateways and how eMerchantGateway is the best choice for your payment processing.
Need to connect a payment gateway with your other business systems? eMerchantGateway is flexible and can be integrated with other technology such as:
Almost every shopping cart platform; it's even included with the eCommerceCart
Industry specific software in a range of categories; examples include furniture, restaurants and non-profits
Leading ERP and OMS providers
Contact our team for a complete list of integrations. We can build a solution that fits your total business needs.
Another advantage of eMerchantGateway over others is our commitment to service. We provide a dedicated Account Manager and advocate for each of our clients. Rely on our 18+ years of ecommerce payments experience to help your business grow.
Don't delay…let us get you started with eMerchantGateway today!

Real-time processing allows you to automatically process your credit card payments with your merchant account online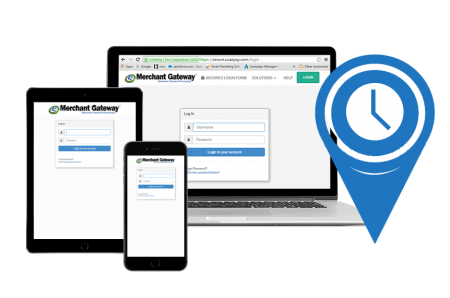 One of eMerchant Gateways main priorities is helping our merchants prevent fraud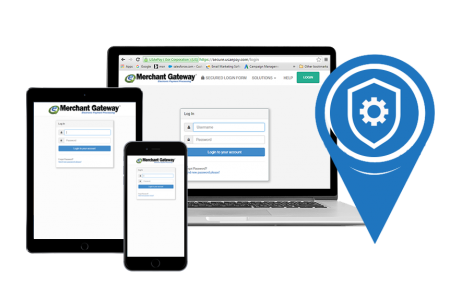 Customer Billing Database
Real-time processing allows you to automatically process your credit card payments with your merchant account online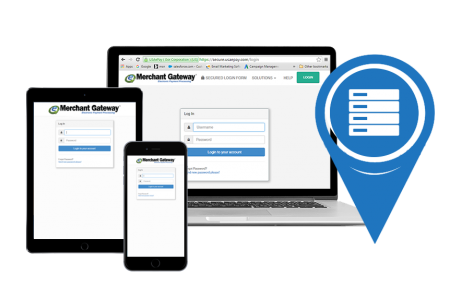 We integrate with all the top shopping carts and platforms.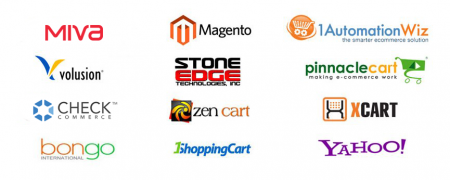 Multi Currency
Process payment for your customers no matter where they are located in the world with our Multi-Currency Processing.
eCheck Acceptance
eChecks (or electronic checks) provide your business with the ability to ACH debit, checking, and savings accounts.
The eMerchantGateway Advantage
Superior Fraud Protection
Integrates With Most Shopping Carts, Platforms, and Software
Concierge Style Service and Support
Real-time processing allow you to automatically process your credit card payments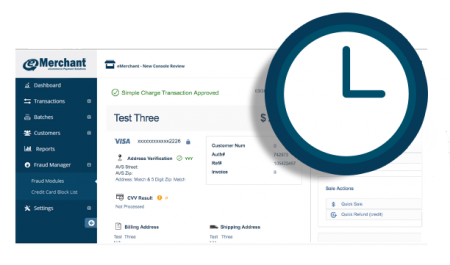 When a customer uses a credit card to pay for their purchase online, you have the choice to process their payment using either real-time or batch processing. Real-time processing allows you to get authorization for a transaction as soon as the transaction is submitted for processing. With batch processing, credit card transactions are stored and processed later as a group, usually at the end of the day.
Real-time processing has several advantages in the online shopping world, especially if you primarily sell in-stock and virtual products. Each transaction is securely verified and either approved or rejected almost instantly. This means customers know within seconds about the status of their purchase, and you can rest assured that any goods are paid for before they are shipped or downloaded. It also increases your transaction security, as you aren't at risk of shipping a product only for the payment to bounce.
The biggest advantage to batch processing is that it reduces the chances of a stolen credit card being used, as this method allows more time for a consumer to report the card lost or stolen. But as long as proper anti-fraud measures are in place, real-time processing is the preferred method for any online-only merchant. Its speed, convenience and reliability will leave both you and your customers happy with the experience.
As a merchant you can keep an up to date list of your customers in your eMerchant Gateway Customer Billing Database.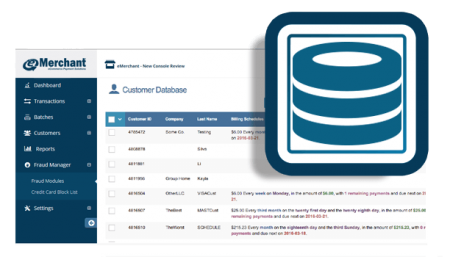 As a merchant, it's vital to have an up-to-date list of your customers available at all times. eMerchant Gateway's Customer Billing Database is a simple-to-use but advanced service that allows you to store, access, edit and delete your customers and their billing data.
Our Customer Billing Database also allows you to set up multiple billing options, including checks. You can even put together recurring billing plans for you customers. By allowing your customers to keep multiple credit cards as well as checking options on file, they'll feel secure and happy knowing their payments are being made in a timely fashion, without them having to re-enter their billing information every time.
All customer data is stored safely and securely on the eMerchant Gateway servers and is accessible through our easy-to-use interface and/or API. The eMerchant Gateway is a Level -1 PCI compliant gateway, giving you the confidence that your customer's sensitive data is safe and secure. Our Customer Billing Database is very user-friendly, but at the same time packs advanced features for merchants, including the following:
• Store multiple credit cards and payment methods for your customers
• Customize your views with the "Save Your Own" viewing option
• Easily search and sort your customer data
• Create customer categories
• Access to detailed customer billing history
• Bulk-edit or import customers
• Bulk edit or import customers
• and more…
One of eMerchant Gateways main priorities is helping our merchants prevent fraud.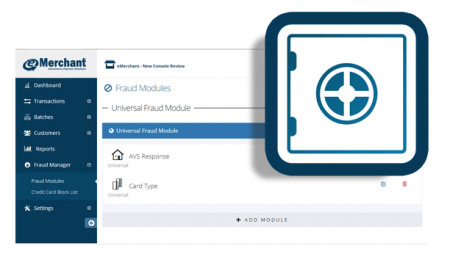 One of eMerchant Gateways main priorities is helping our merchants prevent fraud . This is why eMerchant Gateway supplies each of its merchants with the Modular Stack Fraud Center. This unique tool will be able to help protect your business from fraudulent transactions. With the correct settings in place , you will be able to prevent 99.9% of fraud. It is very easy to use, yet one of the most advanced fraud preventions tools on the web, complete with:
Card ID Verification
Use this feature to check the ID number on customers' credit cards and verify their use is genuine. The ID is the three-digit number on the back of Visa, MasterCard and Discover cards, and the four-digit number on the front of American Express cards.
Address Verification System (AVS)
This automated system verifies your customer's billing addresses with each purchase and alerts you to any unreported changes.
Buyer Authentication
By adding the Verified by Visa and MasterCard SecureCode programs through this module, merchants can give themselves an additional layer of protection against the potential financial costs associated with fraud.
Fraud Profiler
With this feature, you can perform a real-time overall fraud risk assessment of each transaction. If it results in a score higher than a preset threshold, then the transaction is blocked. The assessment uses both automated and human traffic pattern analysis, and risk triggers include sudden changes in the number of transactions, dollar amounts, customer's countries and prior decline rate. In addition to flagging individual transactions, this module will also build a "blacklist" of suspicious IP addresses.
Multiple Credit Cards
Some fraudsters use the "brute force" method of entering stolen credit card numbers until one is approved. If suspicious amounts of card numbers are entered for the same order number or from the same IP address, this module will block the transaction. You can adjust the settings to determine the point at which transactions are blocked.
The Virtual Terminal is an online version of a credit card machine.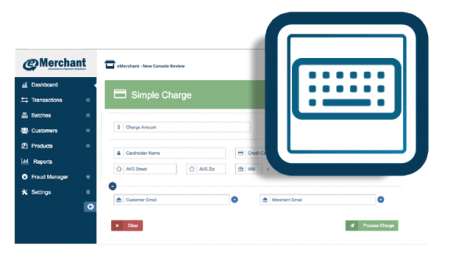 A virtual terminal is a software application that does for an online store what a credit card or point-of-sale machine does for a brick-and-mortar store. It allows you to manually enter a customer's credit card information from a phone, mail, or fax order into a web-based payment form. You then can use the information to process the transaction electronically just as if they'd directly placed their order online.
eMerchant Gateway's Virtual Terminal is hosted directly on our secure servers and can be accessed anywhere you have an internet connection. You just have to log into your account through our website and you'll immediate be able to key in customer's information and authorize transactions. You can enter orders one-by-one, or batch-upload a number of transactions at once to save time. You'll also be able to create and prepare a number of customized reports that can be emailed, downloaded and printed at any time. You can even use our virtual terminal to conduct an in-person transaction. Simply plug in a USB credit card reader, and when you swipe your customer's card, it will automatically enter their card number and expiration date without needing to manually key it in.
This ecommerce software has a number of other features and customization options to help you effectively manage secure transactions. You'll also get personalized one-on-one service with frequent communication to make sure you're getting the most out of your virtual terminal. Whether you're just getting your ecommerce sales up and running or are ready to take your business to the next level, we're here for you every step of the way.
eMerchantGateway Virtual Terminal Features and Applications:
Manually key in and authorize transactions from mail, fax or phone order sales.
Refund orders directly to a customer's credit card.
Hosted on eMerchant Gateway's secure servers.
24/7 access from any computer or mobile device with a web connection.
Automatically bill customers for recurring charges on a daily, weekly, monthly, bi-monthly, quarterly, bi -annually, or annual basis.
Scan customer's credit card information directly using a USB card reader.
Batch-upload transactions from CVS or tab limited files.
Check order statuses and run a variety of reports that can be printed, emailed, or downloaded from any location with a web connection.
A fully integrated payment processing solution for QuickBooks accounting software.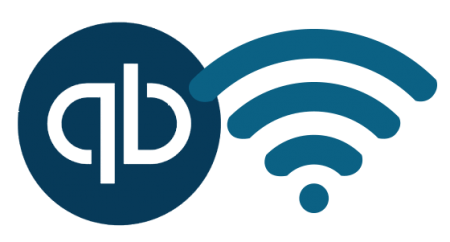 We know how it important it is to have quick, secure and affordable payment processing in the fast-moving eCommerce world. Our Fi-Soft Merchant Edition software answers this call, helping you quickly and easily process individual or recurring payments while seamlessly integrating with your existing QuickBooks® software.
eMerchant Gateway is an Intuit Solution Provider, and Fi-Soft has designed our Merchant Edition software to streamline the payment process. Real-time integration means you never have to worry about manually re-entering or updating payment information in QuickBooks, as each Merchant Edition entry is automatically uploaded. Meanwhile, our patent-pending PayGuard® technology stores sensitive customer payment data for future use without manually needing to re-enter it every time. It is also certified to meet global data security standards, helping protect you and your customers against breaches and fraud and potentially reducing your PCI compliance requirements.
With Fi-Soft Merchant Edition, you'll have the tools at your disposal to effectively and process payments, and can now even choose your own merchant service provider without worrying about being locked in. It's just one of the many ways that eMerchant Gateway is on your side in the sometimes choppy ecommerce waters. Our founder believes in offering great solutions for merchants at a competitive price while cultivating long-lasting, caring relationships. Contact us today to find out what we can do to help grow your business.
With eMerchantGateway you'll be able to process payment for your customers no matter where they are located in the world with our Multi-Currency Processing.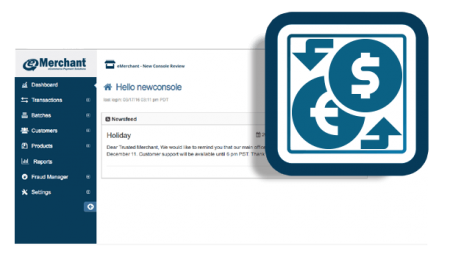 If you're an online merchant, you know the importance of being able to do business anywhere. With Multi-Currency Processing from eMerchant Gateway, you can process customer payments no matter where they're located in the world. Multi-Currency Processing allows your customers to use their local currency to pay for your products or services. All transactions are then automatically converted to your currency.
This important sales tool can help you expand internationally and stand out from your competitors. You can even set prices using the different foreign currencies, and then receive settlement and reporting in your own currency. All of this helps make global shopping easier, more transparent and more profitable. Being able to offer Multi-Currency Processing will allow you to market to international customers and increase overall sales and profitability for your business.
eChecks (or electronic checks) provide your business with the ability to ACH debit checking and savings accounts.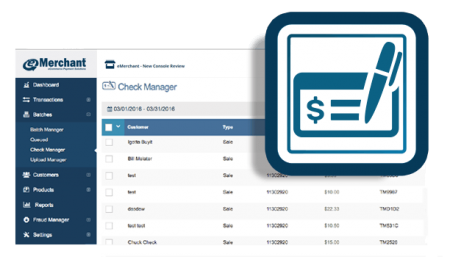 Electronic checks, commonly known as eChecks, allow customers to make secure online purchases using their personal bank account. Money is electronically withdrawn directly from the buyer's checking or savings account, transferred over the Automated Clearing House (ACH) Network, and then deposited into the merchant's account. Our eCheck service will set you up to directly debit these accounts and quickly process transactions.
Once you've received authorization from the customer to conduct eCheck transactions (via an online payment form or phone conversation), eMerchant Gateway allows you to enter your customer's account and routing information directly into our software, enabling you to generate an ACH debit to any bank account in the United States. You can also enter scheduling details for recurring payments. Customer information runs through our check verification module, and if verified, it's accepted into our system. From there, you just click the "Submit" button, and our software withdraws the payment and sends the customer a receipt. As long as the customer's account has sufficient funds, then the payment is typically deposited in the merchant's account within two business days after the transaction began. You can also put a payment form on your website which allows customers to enter their own account information and push an electronic ACH payment to your company.
eChecks are a great option for accepting both personal and business payments. They provide a more cost-effective approach to payment acceptance compared to credit cards while been as or more secure, and having ACH payment processing ability increases payment options for your customers. Don't wait for a check to arrive in the mail when you can instantly initiate a payment from a customer's account by utilizing eMerchant Gateway's eCheck service. Electronic checks are the best way to process recurring payments from customers, and they're also an extremely useful tool for accepting donations for non-profit organizations or charities. Contact eMerchantGateway to learn more about how we can help you with payment processing for your online business.