ACH Processing: What You Need to Know And How it Can Benefit Your Business
In today's business environment, companies are being asked to provide more services with fewer resources. As a result, businesses are looking for ways to streamline their operations and reduce the costs associated with maintaining systems and services.

One of the most cost-effective ways to do this is by automating processes. An ACH transfer service can help your company achieve these goals by reducing the amount of time it takes to process payments and invoices, as well as increasing efficiency through automation.

How does ACH transfers work
ACH transfers are electronic, bank-to-bank money transfers processed through the Automated Clearing House (ACH) Network. The ACH Network is run by an organization called Nacha. Nacha has a set of rules and regulations that all participants within the ACH payment flow must follow.

Most of us have received an ACH payment at one time or another to our checking account from the IRS or some other large organization. This type of ACH is called Direct Deposit.

Direct Payments, on the other hand, are what businesses are set up with in order to bill their customers or provide refunds. A charge to your customer is an ACH Debit and a credit or refund is an ACH Credit.

ACH payments typically take 2-3 days to complete. There is a same-day ACH solution but it's a bit more expensive and not as widely used.

ACH is far more efficient than paper checks and lower cost than traditional Visa and Mastercard acceptance.

The Participants in an ACH transaction are as follows: (see diagram below)
Originator: It refers to the party initiating the electronic payment. It can be an individual, a company, or a government agency. The receiver authorizes it to make the payment.
ODFI: It is the abbreviated form of Originating Depository Financial Institution. It receives instructions from the originator in the form of a NACHA file and facilitates transactions accordingly.
ACH Operator: It operates and takes care of clearing facilities. There are two major ACH operators in the U.S. – the Federal Reserve and the Clearing House (Electronic Payment Network).
RDFI: Also known as Receiving Depository Financial Institution, it is the one which the originator authorizes to receive the electronic payment. It credits the amount to the receiving account. In the event of a return, the RDFI acts as the ODFI.
Receiver: It is the receiving party and can be an individual, government agency, or company.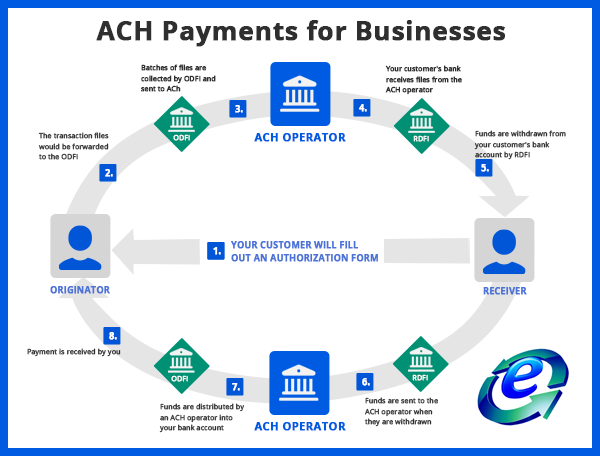 Unlike with credit and debit card processing, however, ACH payments are not authorized first, meaning the merchant does not have a 'hold' or validation that the funds are available in the payor's account.
Credit and debit cards verify whether somebody has the available funds, which upon authorization, are held for that specific transaction.
ACH can be a great additional and low-cost solution. Consult with eMerchant to find out if its right for you.