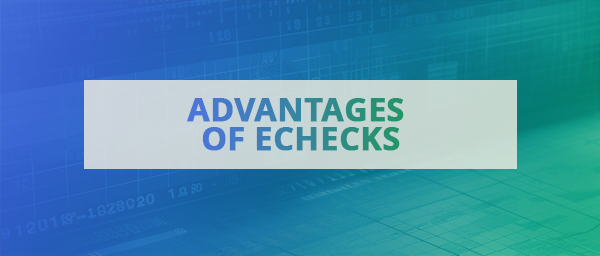 eChecks are a type of electronic payment that is becoming increasingly popular because of its many benefits over traditional paper checks. These digital checks are processed electronically and are linked to a bank account, enabling businesses and individuals to make payments online without the need for paper checks, envelopes and stamps. Gone are the days of manually writing and mailing checks to pay bills, rent, or other expenses. With eChecks, transactions can be initiated instantly and completed in a matter of seconds, making the payment process faster, more convenient and more secure.
One of the main advantages of eChecks is that they eliminate the need for paper checks. Writing, signing and mailing paper checks can be time-consuming, and people often worry about checks getting lost in the mail. With eChecks, all transactions are completed electronically, reducing the chances of errors and delays in payment. Plus, with eChecks, there's no need to worry about having the right amount of cash on hand or coordinating with the recipient in person to pay for goods or services. Instead, payments can be made online at any time and from anywhere. In this way, eChecks are revolutionizing the way people do business, making life easier and more efficient.

The Secure Payment Future: Why eChecks Are the Ultimate Solution for Safe Transactions
Another significant advantage of eChecks is their high level of security. Unlike paper checks, which can be altered, duplicated, or stolen, eChecks come with several security features that prevent fraud and unauthorized transactions. For example, eChecks use a sophisticated encryption technology that safeguards sensitive information, such as bank account numbers, and ensures that it's protected from prying eyes. Additionally, eCheck transactions require authentication, typically in the form of a digital signature, that verifies the identity of the sender and ensures that the payment is legitimate. All of these measures combine to make eChecks one of the most secure payment options available.
The security benefits of eChecks are particularly important for businesses that operate online or that handle sensitive financial or personal data. Fraud and data breaches can be costly and damaging to a company's reputation, and they can result in significant financial losses. Therefore, businesses that use eChecks can be confident that their transactions are secure and that they're providing a high level of protection for their customers' information. This can increase customer trust and loyalty, leading to greater success and growth for the business.
Time-Saving Convenience: Why eChecks Are the Best Way to Manage Your Finances
Finally, eChecks provide a high level of convenience that can save people considerable time and effort. With eChecks, transactions can be initiated and completed in a matter of seconds, without the need for manual processing or physical delivery. This means that people can pay bills and transfer money quickly and easily, even when they're on the go. Moreover, eChecks can be scheduled in advance, allowing people to set up recurring payments, such as monthly rent or mortgage payments, without having to remember to do so each month. This helps to eliminate late fees and penalties, and it can free up more time for people to focus on other important activities.
Another convenient feature of eChecks is that they can be easily managed through online banking platforms or payment processing systems. People can view and track their payment history, check their current balances, and monitor their account activity all from one place. This simplifies the payment process and reduces the need to keep track of paper records or to visit multiple websites or apps to manage finances.
Finally, eChecks are often more affordable than other payment options, such as wire transfers or credit card processing fees. This can save people and businesses a considerable amount of money in transaction fees and other costs, making eChecks one of the most cost-effective payment options available.
Conclusion
Overall, eChecks are a revolutionary payment option that provides many benefits over traditional paper checks. From their high level of security to their convenience and affordability, eChecks represent the future of efficient and safe transactions. As more businesses and individuals adopt this digital payment technology, it's clear that eChecks have a bright future ahead.